Radio/TV Meraj
AIL is excited to announce the official satellite launch of Television Miraj! With programming designed to expand education access, jobs skills training, health information and human interest programming such as news and sports, we could not be more happy!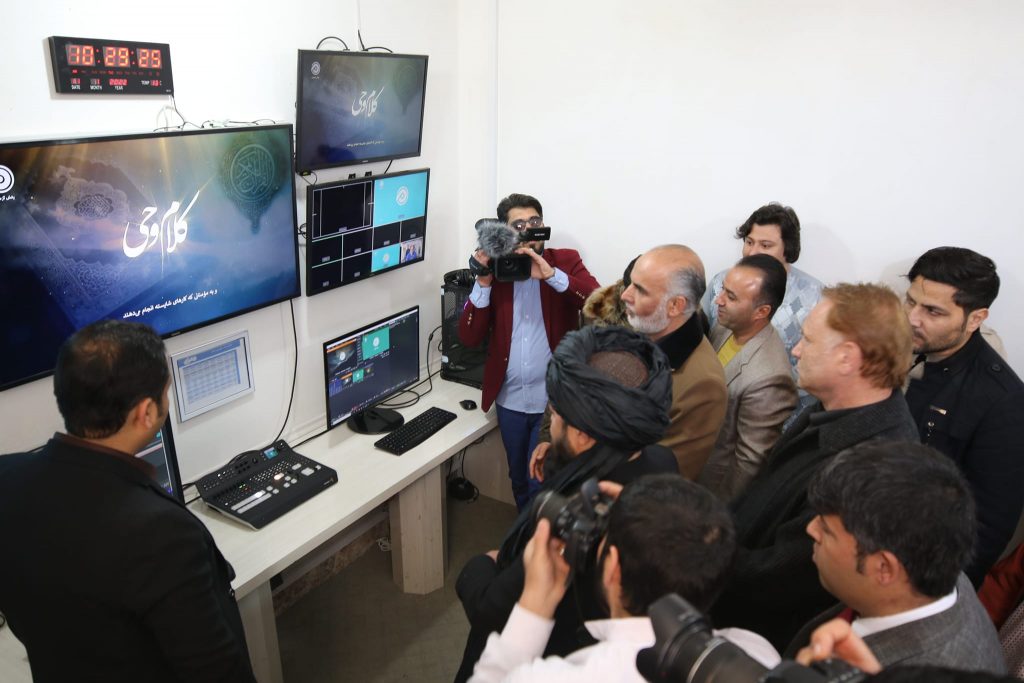 The launch of TV Meraj is one more facet of AIL's goal to help build a stable Afghanistan. Using satellites means AIL reaches all of Afghanistan, and several other countries in the region. We appreciate the use of this technology, and the businesses that bought ad space! Peace is taught, the more people we reach, the more peace we spread! AIL has always treasured its independence, and now because of it we have the ability to reach tens of millions of people. We will always remember the help we receive, to continue to work towards our goal of a peaceful and prosperous world.
AIL and Women's Leadership
Also this month, we relaunched our women's leadership clubs! Our women leaders met together to learn about self reflection, self improvement and critical thinking. Humanity only grows if we take the time to truly learn what we as people need to do to improve. It is easy to find flaws in our neighbors. It is far harder to look at our own flaws. AIL knows this too must be taught.
AIL and Health care
AIL's newest Kabul health Clinic is up and running!! AIL always works hard to ensure the health of the community, and these times are no exception! AIL exists to serve Afghan people, and with a new clinic, a new opportunity to serve is here! Our newest Kabul clinic is staffed entirely by women, with the exception of our doorman.
AIL is still here, even when so many others left, because AIL is and always was, of Afghanistan. Critical medical services for families uplift not only women, but the community. Even if the work is slow, healthy communities spread. Access to more advanced medical technology from the national stockpile, such as solar powered refrigeration for vaccines, makes our whole country safer and healthier. AIL answers to the people of Afghanistan, because it is the only way to serve them. AIL keeps Afghan people's needs in the front of our minds every second of every day. While we will always work only for our people, we also recognize the help we get from leadership invested in the people of Afghanistan, too.
AIL Humanitarian AID
With Afghanistan in the middle of a humanitarian crisis beyond words, AIL has so much work to do. Every single day, we receive requests for new schools and learning centers. With Afghanistan experiencing the one of the worst crisis for human suffering on earth, most of our resources right now are going to humanitarian aid. Hundreds of families every day depend on the supplies we can get. They receive from AIL basic life giving items such as food, sanitation supplies, clothing and clean water. AIL desperately needs access to international supply lines, we can reach places others rarely can. Our people are starving, and the children are suffering. The youth are desperate for counseling, starving for love, and compassion.
Afghanistan's population is very young, we cannot afford to allow the next generation to give into despair. Not only are they running out of country, we also have an epidemic of youth suicide. It is a brutal thing to do to a young person, to give them hope of a bright future, and then rip it away. It is AIL's deepest wish for this to stop, so we can go back to building schools and learning centers. To bring our Youth Club and Leadership classes back into our main focus. The humanitarian crisis is hurting more than people, today. It is hurting our future people too. If you wish to help AIL at this time, we need access to these supply lines, and we need donations so we can hopefully soon go back to opening the hundreds of schools that people are begging for.
Looking Ahead
Which brings us to our last piece of good news. AIL has more requests for schools than ever, just waiting for this crisis to resolve. AIL policy has always been to only go where we are invited. Now, hundreds and hundreds and hundreds of villages and towns have approached our people to beg for the schools they wanted for twenty years and could not get. AIL sees despair in the people, but AIL sees so much hope in them too. Even if Afghan people are starving, they plan for a future that will bring benefits only after a decade. Afghan people are strong, they are resilient. We will continue to help them because they choose peace, and peace is what AIL teaches.
AIL will update you as we face an uncertain year, with a very certain goal to continue serving our people, prioritizing their health & safety — then changing future generations through peace, education, and empowerment one individual and community at a time.