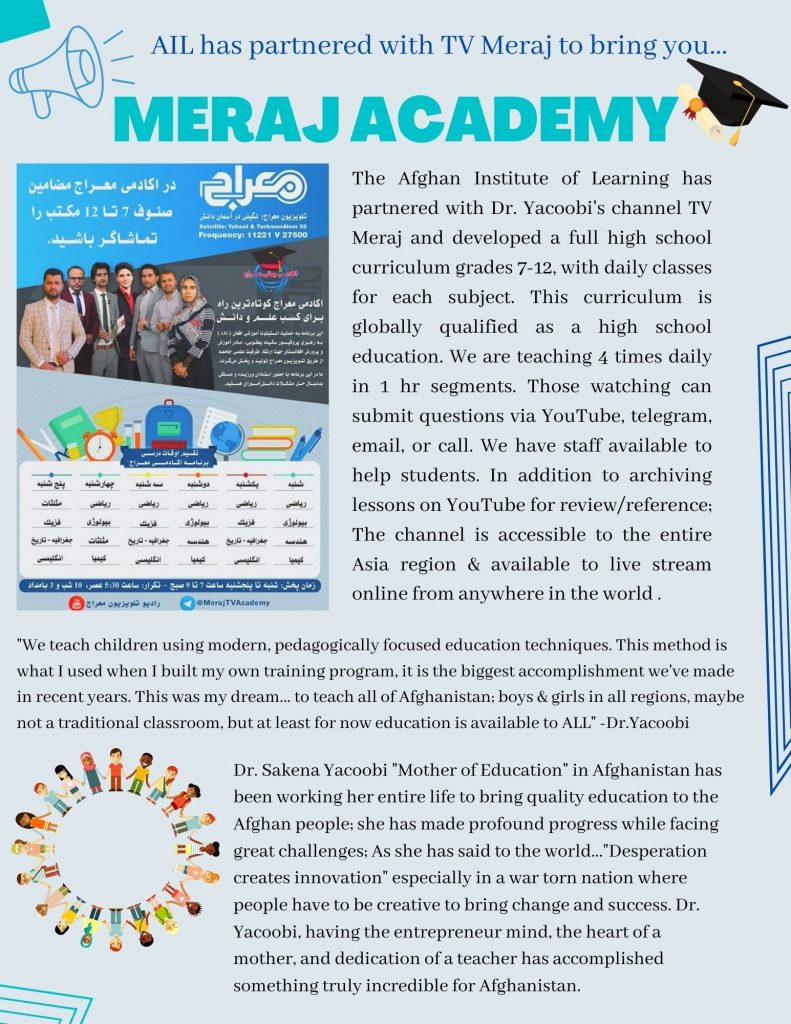 After decades of work, Afghan Institute of Learning is elated to announce a major step forward towards education for all people grades 7-12. Working with the best teachers in the country, we have built a televised full-day school! Students can access class on the TV, across the entire region! They can ask questions as needed via phone, email, or Telegram, so our teachers can answer them. With only one television and five hours of electricity a day, students across S. E. Asia can now learn advanced STEM and history, social sciences, English and many other topics.
Afghanistan has never had a national school system, so this is a major accomplishment. With the combination of our PreK-6th grade schools and now our televised 7-12th grade schools, so much more of Afghanistan now has access to a full education. An education designed to match international standards of college admission.
Major Focus Change
TV Meraj is now our focus for funding. With better funding, we can afford more teachers, so we can teach more grades. We can record classes on child led learning methods, and teach the community the importance of early childhood growth. Even if AIL doesn't have a physical classroom in every town and village, our school curriculum now does. The better our financials, the more languages we can translate our learning tools into. The best part is AIL made this in a conflict zone, so its already designed for developing nations. Easy to use, easy to teach, easy to learn. We are so excited for the future!